THIS YEARS MASTERCLASS IS CANCELLED DUE TO COVID-19!
Next years course is AUGUST 2-7 2021
Mittenwald International Double Bass Masterclass 2020
August 3-8, Mittenwald Germany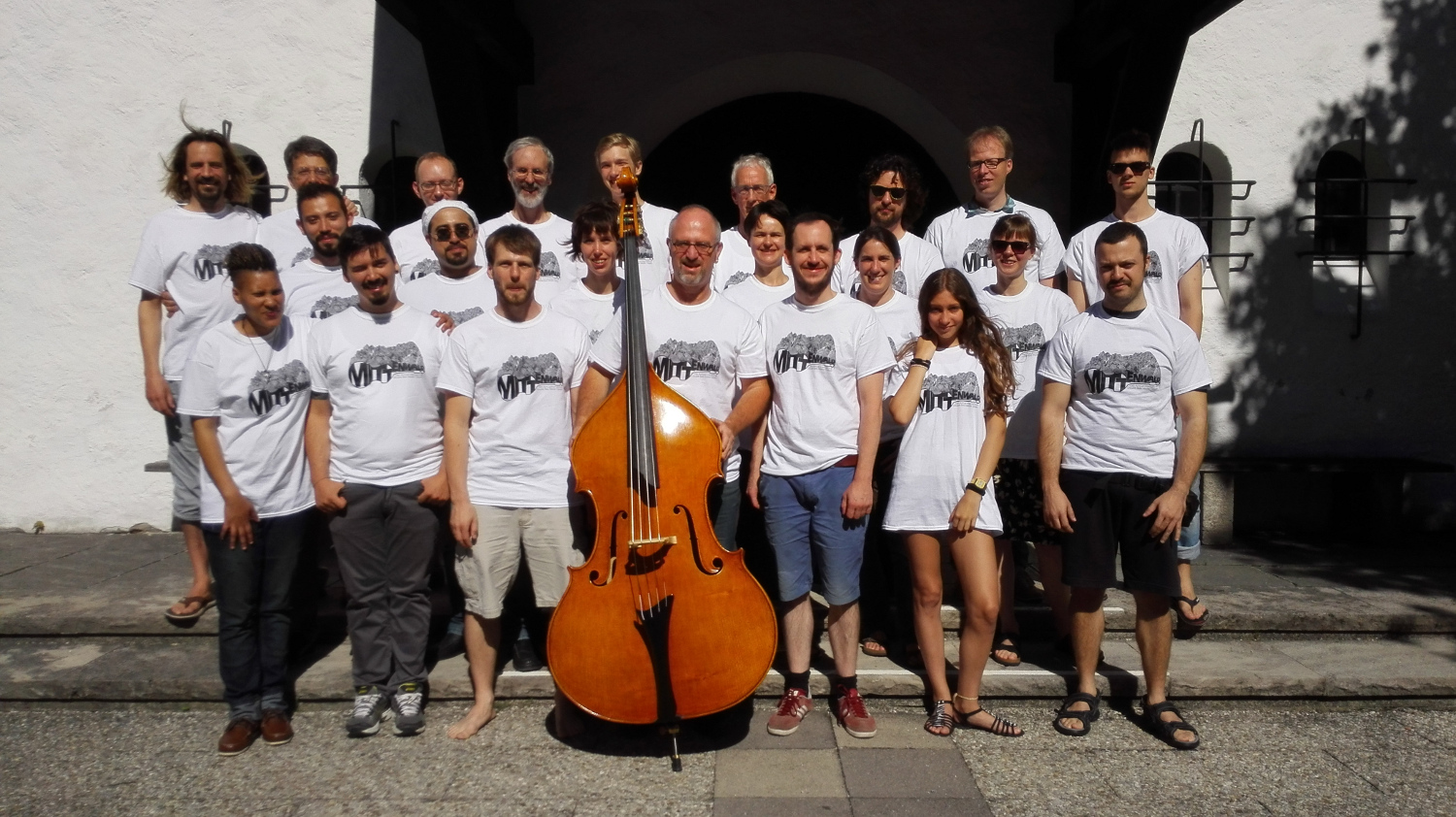 The annual double bass masterclass in Germany offers a chance for students of all levels to study a week in the historic town of Mittenwald.
Teachers 2020
Double bass professor Jeff Bradetich teaches a master class every summer in Mittenwald together with Andreas Bennetzen.
Jeff Bradetich is a prof. at the University of North Texas and a world famous classical music performer.
We started in 2005. This year it is the 15th time that we invite double bass players from around the world to a week of intensive double bass studies, concerts and fun
—Highlights include—
-Multi-level teaching
-Solo lessons
-Intense technical training
-Orchestral training
-Attention and room for your personal needs
-Basses that you can borrow for FREE
-A nice friendly learning environment
-Highly experienced faculty
-Focus on your development
-Concerts, workshops and insight into the world of double bass making in company with famous double bass maker Michael Krahmer Pöllmann.
Mittenwald is a historic town situated in the Bavarian Alps 938 meters up the Karwendelspitz- this area has always had excellent wood for building instruments and is the home of the Pöllmann double basses.
The town is also a popular tourist attraction so it´s full of cosy restaurants, hotels and bavarian good spirits.
Fee for the course is 520€
More info and photos from participants
You can visit our Facebook Group with lots of photos and videos from the previous years uploaded by the students over the years.
Registration
You can also contact Andreas Bennetzen for more information and registration by writing an email to info@andreasbennetzen.dk
The registration form can also be found at the bottom of this page.
Testimonials from participants
Sara Moneo from Spain
Dear Jeff,
How are you? I'm very happy here in Germany. It is a beautiful country with great people that are trying to help me very much.
About your Bass Camp in Mittenwald, I was/am so happy! I'm practicing your method every day and I am improving so much an so fast that I'm incredibly amazed! I have a much bigger sound, I have a better control of both hands and of course of the vibrato, more precission, it has helped me use my head almost all the time… although I have so much information!! My double bass seems to be someone else's instrument, it has a longer (from sul tasto to the bridge) range of sound… and I think I could continue for ages telling you!! I can play some of your exercices at a very fast speed and in many different tones!
It was just what I was looking for as double bass technique. It is so similar to what I have discovered on cello playing and teaching that it makes me play double bass nearly at the same level as 25 years playing cello and 18 years teaching (since I was only 15)!!
After the summer break I'm trying to look for a good teacher in this area. During the course you recommended me to write you and ask you. I live in Thüringen; near Weimar, Leipzig and Dresden. Do you know any double bassist in this area? I'm a little bit lost. What dou you think? Could you please help me?
Well Jeff, THANK YOU VERY MUCH for all of your help. I hope you had a great time in Europe and that 2012/2013 is a fantastic school year at your University.
Hoping to hear from you.
All the best,
Sara Moneo
Michael from Germany
I just wanted to tell you that I really liked your masterclass week in Mittenwald.
As I came home and started practising again, I am doing your material, mostly in the thumb position and the shifting drills. And now I feel much better while playing the bass.
I also was trying different sitting positions and now finally I am more or less with the one you do. For me and for the german bow I think its best with the bass quite vertical. And I really notice a big big change in my sound, more clear, more focused and more solistic. Also my collegues in our chamber orchestra noticed the difference or I think it more that is the first time they listened really to my playing because of this new sound.
For this I want to thank you for sharing your method, your ideas and your musicality with us.
Maybe you remember Jan from Sweden. Well, he liked my playing and I am going to Umea, North Sweden, to play with the orchestra as a sub for a week. He is principal there.
Maybe when your book will be released you can let me know shortly, because there are many things I learned which I am working now with my students. And it is not only technical stuff, but also in how to teach, how to talk. I think I didn´t hear from you in this week the word "NO"
Thats all for now, but I hope we stay in contact.
Greetings from Spain / Michael and Sole
Danijel Radonovic from Croatia
Dear Jeff,

I wish you all the best in the year 2018 and may it be the year full of dreams come true!

I hope you remember me from masterclass in Mittenwald 2017. You asked me to let you know, if I could come to 'The Pirastro string elite soloist program' and I would like to let you know, that unfortunately this year I cannot come due to my Bachelor finals.

I hope I'll decide to go to the Sperger competition this year, so maybe we meet there. That would be nice. I was never intersted in competitions, but now I feel it's time to experience that kind of thing, before I start playing auditions all over the place. I hope it'll bring me much needed new connections and possibilities.

Also, I would also like to tell you how my playing improved tremendously after masterclass in Mittenwald. My professor was shocked when he heard me play afterwards, didn't know what to say. The way you approach technique is so simple, unique and I love it. It made me fall in love with the instrument one again, I'm really thankful for that! I know I wasn't so opened minded on some things right away, but that's how I am, I need time to understand and experiment, before I accept and implement it to my playing. I'm used to working like that with my professor. I hope it wasn't too annoying.

That's all from me!
Cheers
Danijel Radanovic
(guy from Croatia studying in Prague:)
Press
The Strad Magazine January 2020 – String special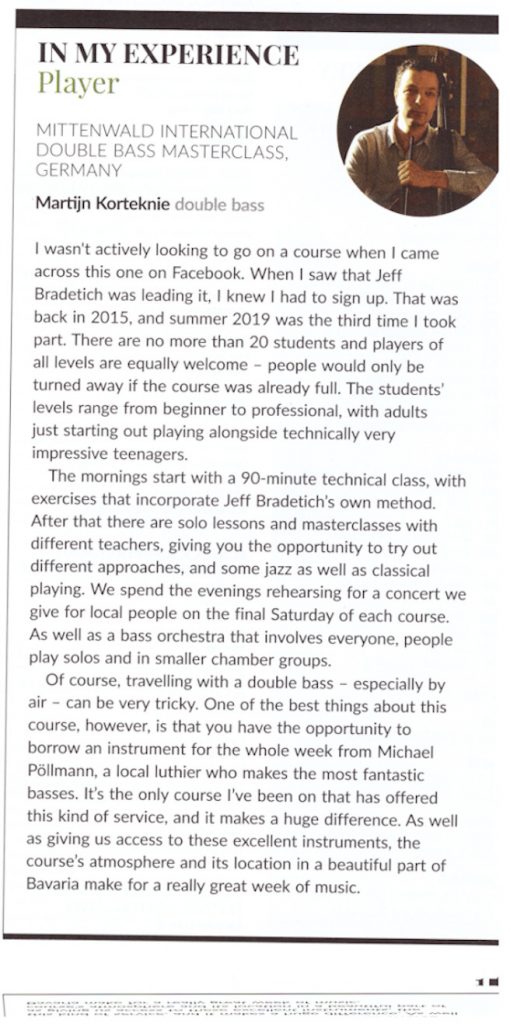 The Strad Magazine 2015 – Summerplus supplement
Strad-Summerplus-2015

Augsburger Allgemeine-Anniversary concert review 2015
Leopold-Mozart-Zentrum_-Der-erste-Augsburger-Meistersommer-Lokales-Augsburg-Augsburger-Allgemeine

From the local paper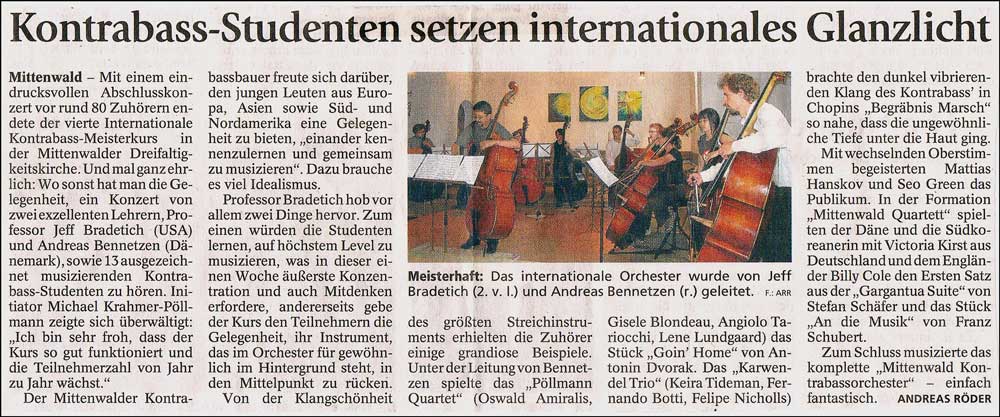 Online registration form.