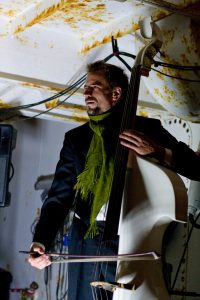 SITE UNDER CONSTRUCTION
Andreas Bennetzen
Solo upright bass player and composer from the danish freetown of Christiania.
He makes instrumental electronic and alternative music, with influences from tech, trance, neo-classical, dub, jazz & blues.
"Andy Benz sounds like Arvo Pärt on acid". Frankfurter Allgemeine
"Once, Denmark had one of the world's best bass players, Niels-Henning Ørsted Pedersen. And now DK has another one. His name is Andy Benz and on his debut cd, Andy paints beautiful melodious dreams worthy of both Oldfield and Vangelis. Henning Høeg – BT
According to himself his main influences are the merging of modern effects, computers and classical double bass.
Andreas has studied classical music at the highest level. He played in the Danish Radio Symphony Orchestra and the Royal Opera of Copenhagen, before his own musical journey started taking up all his time.
With the release in 2009 of his live-looping solo album "Flowing in Circles" under the alias Andy Benz, he made a powerful musical statement.
Using only the bass and a loop-machine, he mixed elements of electronic music, with his sublime instrumental knowledge, into his own style. With live-looping and effects, he found a way to dig even deeper into the double bass role as a solo instrument in electronic and instrumental music.
This album earned him a lot of recognition and he started working with international sponsors like Yamaha, as a Silent bass artist, and D´Addario Orchestral Strings family.
In february 2016 he released the 2nd Andy Benz album titled "Disciples".
All samples on this album are from the electric upright bass that he is using as a Yamaha artist. The album was self-produced.
He is a member of saveral bands. He has had his compositions performed in many important festivals such as Nordic Music Days, Nordlichter, Roskilde Festival, Metropolis Biennale and BASS Europe. One of his most succesful pieces being "The Battle of Copenhagen" for 100 double bassists, tall ships, and dancers in the harbour of Copenhagen in 2012.
He is the recipient of numerous grants from the National Danish Art Council and private foundations.
He is a member of the Danish Composers Association, DJBFA and Danish Artist Union.
He works with theatre, installations and performance art, often integrating musician/composer/performer into one person using his one-man band style with live-looping and multi effects.
His music has been used for radio, theatre, television and movies.
He regards teaching very highly. He teaches cross-over music at The Rhythmic Academy of Music in Copenhagen and has given masterclasses at Yehudi Menuhin School of Music in London, University of North Texas, Penn State University, Hochschule für Musik und Darstellende Kunst, Berlin and Piacenza Academy of Music in Italy
Together with prof. Jeff Bradetich he founded the Mittenwald International Masterclasses in 2005